I originally set up this website as an informational resource for my company's own subcontractors so they could keep up to date on this ever-changing industry. Around the time I first started putting this site together, I was a complete novice at building websites.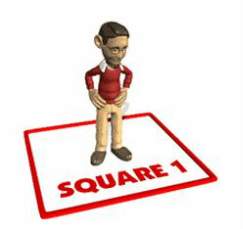 In fact, the main reason I created this here website that you're perusing right now was because at the time, there were no other quality educational websites for Property Preservation vendors, aside from Terry Platt's cubicyard.us, which was very difficult to navigate at the time. The few other websites that claimed to provide Property Preservation Training info were light on content and were built specifically for the purpose of selling REO asset manager contact lists.
I had absolutely no idea this website would become as popular as it has.
But enough about the history of my website. The idea for this post came to me after remembering a quote I originally heard several years ago.

"Wealthy people have huge collections of books. Average people have huge television sets. I actually have both but I'm much more proud of my book collection."
"Wealthy people have huge collections of books. Average people have huge television sets. I actually have both but I'm much more proud of my book collection." 
See, I jumped into an entirely new type of business with its own rules and it was not easy. I spent many hours educating myself with information, both free and paid for. And just like the old saying goes: you get what u pay for.
My point is this. I would have never gotten to where I'm at as quick as I did if I decided early on that I was NOT gonna pay for information. Heck no.
Unfortunately, I observe so many people who have that mentality and its as clear as day to me why they are struggling when they don't have to.
Folks, we have been living in the "Information Age" for the last 10-15 years. The takeaway is this: Most industries are changing so quickly nowadays that the only way to keep up is by taking advantage of the valuable informational resources at our disposal.
Believe it or not, I spend between $500-$1,000 each month on different educational courses and software. I do this to maintain my competitive advantage over other companies that do what I do… Because I know that 99.9% of them don't.
Most of the stuff I buy are information-based products written by people who are successfully doing something that I want to do. These product sellers are simply sharing their experiences with me, both good and bad, so I can avoid committing many of the newbie mistakes that ALL new business owners encounter.
This is one of the most valuable habits I have ever had.
My question to you is: What have you learned this week that can help you reduce costs or increase your business's income?
I figured I'd end this post by answering a question I have been receiving more and more frequently, lately. I have received several emails asking what Property Preservation course I would suggest for beginners.
Before I answer the question, I would like to mention that there are currently no mandatory training courses that you have to take to become an REO Vendor. Sure there are some people out there who like to say that they offer the only accredited course on how to be a Property Preservation Vendor; however, I can assure you that they use the word as a marketing tactic.
Anyways, I have reviewed all of the Property Preservation Training Courses that are currently being offered for sale and I believe that the course being offered by Les Tyler, which is called Foreclosure Clean out Cash, is the one that will be most helpful to those who are new to the Property Preservation industry. Not only does Ms Tyler provide the necessary technical information for how to complete the work but she also covers the other stuff such as how to set up your business, how to pay your employees and subcontractors, etc.
First off, it is one of the least expensive choices out of all the good quality courses. Secondly, she doesn't try to talk you into buying a bunch of other stuff, like a couple of the others. And thirdly, she methodically breaks down the process into step by step instructions in a way that works really well for beginners.
This next statement may sound harsh but I truly do have nothing but respect for Ms Tyler. Plus I'm being totally honest because that's what i do.
The part I DO NOT like is her goofy sales video that she has on her sales page. I say goofy because… well… it is goofy! So try to look past the sales video & I promise you will find great value.
Click here to check out Foreclosure Clean-out Cash, which not only teaches you about the Property Preservation industry but also about setting up your business the right way from the beginning.
And if you ever read this Ms. Les Tyler… I'm sorry if I hurt your feelings.
Please Note: I have an affiliate relationship with several product sellers and receive a small commission if anyone makes a purchase, which is used to pay for this awesome website that you're visiting right now. The few dollars I get for each sale is barely enough to feed my kids at McDonald's and I sure as hell would NEVER even consider risking my reputation for a happy meal. I'm simply trying to help visitors to my blog so that they don't waste their money on some of the other garbage being sold.