Last Updated:
This is the process of thoroughly "cleaning" the entire inside of a property which includes vacuuming and mopping all floors, cleaning all windows and light fixtures, kitchens and bathrooms, stoves, ovens and refrigerators.
Depending on the client who orders the maid service work order, there may be additional tasks related to cleaning that you need to complete. Make sure you include a specific list of the services you will be providing with your bid. Otherwise, you may find yourself being asked to complete a comprehensive and thorough clean that extends way beyond what you budgeted for. List both what is included and what is not included.
Alongside the traditional maid services or cleaning services you may want to offer also more complete property preserving services like:
Washing the walls, removing any graffiti or signs of vandalism and painting
Replacing any broken or missing windows
Exterminating any pests and ensuring pest prevention methods are in place
Emptying any swimming pools, cleaning them and maintaining them.
Performing basic gardening and yard maintenance
Removing any snow and ice from driveways and paths
Cleaning the guttering and making sure drains are working properly
Replacing carpets, flooring and tiles where required
Preparing the house for the winter and ensuring it is heated through on a regular basis
Repairing any damaged carpentry
Ensuring the plumbing is in full working order and replacing pipes and systems were required
Implementing appropriate fire and mold prevention measures
Repairing any damaged fences, walls, and garages
Some states require contractors to obtain a formal license before performing some of the tasks listed above while others allow basic handyman services to be completed providing their cost doesn't exceed a pre-determined amount. The process by which you can establish whether you need to secure a contractors' license was covered in a previous section.

Painting
As is the case with the locksmith, sometimes it makes business and professional sense to hire a professional to perform any painting work. It can take you days to do a job that a professional can complete in just a few hours. In a lot of cases, by the time you have purchased all the materials you need, performed all the preparatory work and paid for the labor, you will have incurred practically the same cost as you would if you had contracted the work to a professional. These guys do the job day in day out, are methodical and professional and will do a much better job than you can.
The only time I would advise taking on the work yourself is if the area that needs painting is very small or a just a simple touch-up is required.
Tools Needed To Complete Maid Services
regular vacuum
shop vac
paper towels
oven cleaner
glass cleaner
duster
mop
pine sol
5 gallon "water cooler sized" container of water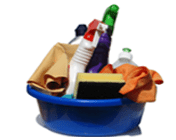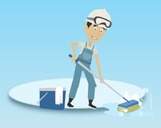 Videos Showing Property Preservation Maid Service