Once all the junk and waste has been removed, you can commence the basic interior clean. This involves cleaning all floors and surfaces, and sometimes walls. Generally, as part of the basic clean, you should do the following:
Sweep, mop and vacuum the floors
Wipe down all countertops, surfaces, bathroom counters, toilets and sinks
Wipe the exterior of appliances only
Clean all mirrors
Make sure you include a specific list of the services you will be providing with your bid. Otherwise, you may find yourself being asked to complete a comprehensive and thorough clean that extends way beyond what you budgeted for. List both what is included and what is not included. At the top of my quotation for basic cleaning services I usually write the following in bold letters:
A basic clean is a non-detailed clean that is limited to the following services:
Underneath, I explicitly list each service. This avoids any later confusion or dispute regarding the scope of work.
The Detailed Clean
The clue is in the title here. The detailed clean, or the white glove clean as I like to call it, is much more comprehensive than the basic clean. It is a full clean that involves cleaning the inside and outside of appliances, etc.
Additional Cleaning Tasks
Depending on the client who orders the maid service work order, there may be additional tasks related to cleaning that you need to complete. Make sure you include a specific list of the services you will be providing with your bid. Otherwise, you may find yourself being asked to complete a comprehensive and thorough clean that extends way beyond what you budgeted for. List both what is included and what is not included.
Alongside the traditional maid services or cleaning services you may want to offer also more complete property preservation services like:
Washing the walls, removing any graffiti or signs of vandalism and painting
Replacing any broken or missing windows
Exterminating any pests and ensuring pest prevention methods are in place
Emptying any swimming pools, cleaning them and maintaining them.
Performing basic gardening and yard maintenance
Removing any snow and ice from driveways and paths
Cleaning the guttering and making sure drains are working properly
Replacing carpets, flooring and tiles where required
Preparing the house for the winter and ensuring it is heated through on a regular basis
Repairing any damaged carpentry
Ensuring the plumbing is in full working order and replacing pipes and systems were required
Implementing appropriate fire and mold prevention measures
Repairing any damaged fences, walls, and garages
Some states require contractors to obtain a formal license before performing some of the tasks listed above while others allow basic handyman services to be completed providing their cost doesn't exceed a predetermined amount. The process by which you can establish whether you need to secure a contractors' license was covered in a previous section.
Painting
As is the case with the locksmith, sometimes it makes business and professional sense to hire a professional to perform any painting work. It can take you days to do a job that a professional can complete in just a few hours. In a lot of cases, by the time you have purchased all the materials you need, performed all the preparatory work and paid for the labor, you will have incurred practically the same cost as you would if you had contracted the work to a professional. These guys do the job day in day out, are methodical and professional and will do a much better job than you can.
The only time I would advise taking on the work yourself is if the area that needs painting is very small or a just a simple touch-up is required.
Tools Needed To Complete Maid Services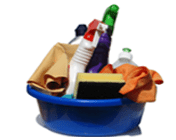 regular vacuum
shop vac
paper towels
oven cleaner
glass cleaner
duster
mop
pine sol
5 gallon "water cooler sized" container of water
Handling Unexpected Situations
In this job, you will come across the strangest things. Sometimes shocking, sometimes amusing and sometimes outright dangerous.
While you can't prepare for every eventuality, you can think through a few scenarios in advance to make sure you are prepared and have a basic plan of attack. Develop a number of policies to handle potential scenarios and make sure all your team members are fully aware of what they are and what actions they should take if certain things happen. A few examples of situations you may encounter are listed below:
The property is infested by pests.
The damage to the property is extensive and potentially dangerous (e.g., a ceiling is about to fall down).
The property has been used as a drug house or meth lab.
A member of your team sustains an injury while in the process of the job.
There is excessive mold growing on the walls.
The original occupants are still in the property when you arrive.
There are squatters in the property.
An action taken by a member of your team results in an injury to a third party.
You cause damage to the property or to a third-party property in the process of completing your task.
Of course, the list of difficult situations is endless. You should teach your staff that, in the event they are ever unsure as to what action to take, they should immediately leave the property and contact you. You can then make a decision and contact the relevant people. If the situation presents an immediate risk of danger, or someone has been seriously injured, they should contact the appropriate emergency services.
You will often find that an empty property has been inhabited by homeless people. If you or your employees come across a house that is being used as a shelter in this way, remain calm and tell the inhabitants, "I'm only here to clean." This will help to avoid them getting aggressive because they think you are there to evict them. Leave the property and contact the realtor or asset manager. You should never attempt to evict people.
Videos Showing Property Preservation Maid Service